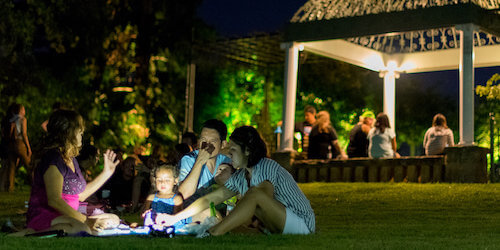 Join us for our new Thursday night concert series! Bring your picnic blanket or camp chairs and grab a spot on the lawn to enjoy live music, games and fun for the whole family. Click on the photo above for upcoming dates and details.
Gilcrease Museum is excited to announce day all about the Moms in your life! Join us for a special brunch (with seating at 10am or 12:15), and then follow it up with our Mother's DIY, where attendees can do a relaxing paint-by-numbers piece inspired by our collection. Visit our events page to learn more and register.
As the saying goes, April showers bring May's flowers, and we are ready for all things blooming with this month's collection of family activities. Do a fun tour of some of the vibrant blooms in our online collections and learn to paint your own landscape with this month's take-home activity.
Along with many other area attractions, Gilcrease museum has chosen to continue requiring masks while indoors or when physical distancing is not possible outdoors through the month of May. Keeping our visitors safe and healthy is one of our top priorities.
We are excited to announce the next phase in Gilcrease Museum's construction of a new facility. Executive Director Susan Neal shares what the future holds for our collections.
On view March 5 to July 4, Gilcrease Museum, in partnership with the Photographers of Tulsa Group (PHOTOG), is pleased to present Assignment Tulsa. This exhibition, through the art of photography, showcases the many things that make Tulsa such a special place to live.